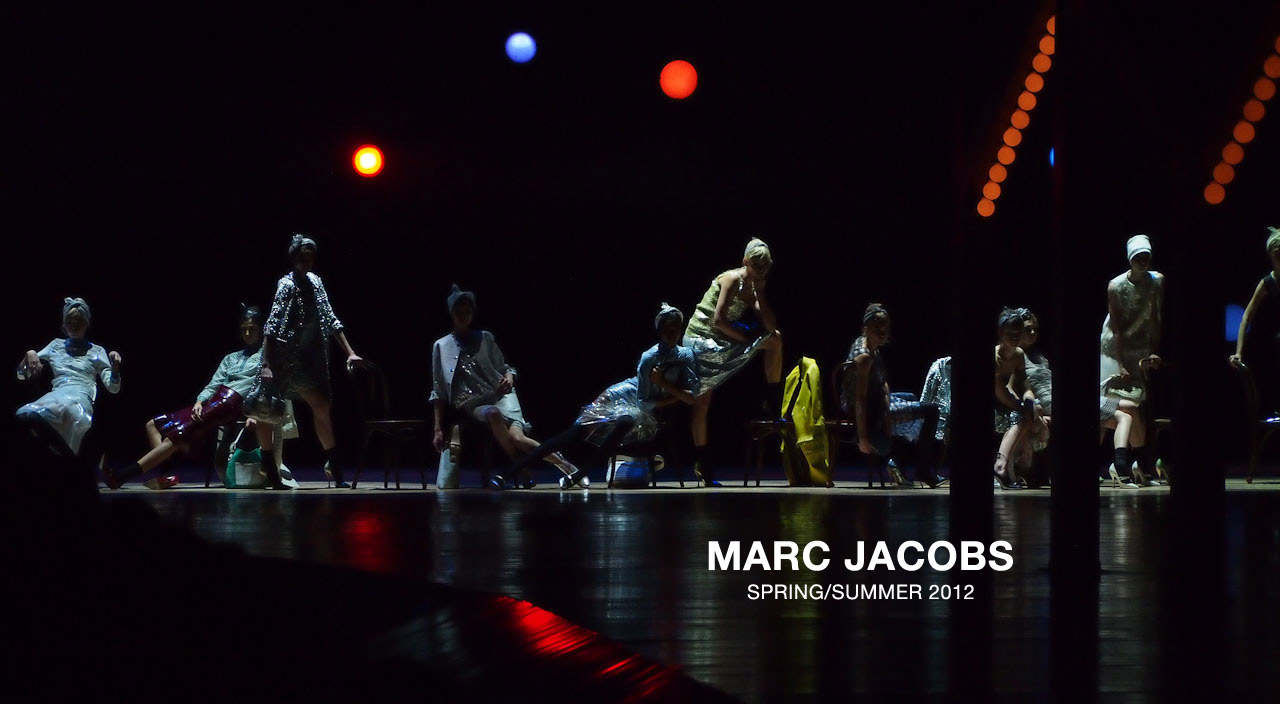 Over in the handbag department today we're still in a New York state of mind, catching Jane Richardson, Global Lead Artist for Nars Cosmetics, as she was packing her kit for the Marc Jacobs show. While no one knows what we'll see for winter Jane was happy to backtrack to the spring look for us – a butter-wouldn't-melt mash-up of Amy Winehouse and early-sixties Parisiennes. 'Character is key for the Marc Jacobs show,' says Jane. 'She's always elegant but this time there's definitely a dark side.' So if Marc by Marc Jacobs is the candy-striped coquette of the family, Marc's mainline girl is the big sister who slinks back into the house just after dawn. And who wouldn't want to be her? Here's how…
Pare back your base
'Our brief was to have the girls look like they'd been out dancing all night – a little bit lived in,' explains Jane. 'We used powder if they really needed it but left the high points of the face looking quite reflective, as if the natural oils had started to show through.' If your skin can take the scrutiny stick to something sheer and life-like. Nars Pure Radiant Tinted Moisturizer was worn here though Jane does concede that if you need a leetle more help you should trade up to something less see-through but with just as much dew. Nars Sheer Glow Foundation is her pick while we're also fond of Clinique Supermoisture Makeup.
Bare faced cheek
There's colour there but not a lot, says Jane. 'She's on her way home and pretty exhausted so if her skin's flushed it's all her own work, not from her make-up bag.' Which means a no-cheek policy bar a tiny bit of contour if you really can't go without. 'Nothing too doll-like or you'll lose the whole look,' requests Jane, 'just a flick of something beige under the cheekbone.' Try Nars Blush in Zen or MAC Powder Blush in Harmony or Equilibrium (applying with a Space NK Cheek Contour Brush will help you hit the spot).
Mind the gap
Here's the thing – because Marc wouldn't be Marc without a little bit of crazy, there's always a kink in the beauty look, says Jane. 'François Nars is the same, it's subtle but there's an element of shock. He and Marc have worked together for so long they're both on the same page here.' So where sequins might be made of latex, lashes will have a great big gap gouged out of the centre. 'Think of Madonna or Lara Stone's gap-toothed grin – it's that little bit of off-kilter that makes them cool as well as beautiful.' Here the kook comes from three pairs of lashes, cut into sections, layered up at the corners, and finished with a flash of liquid liner. For us one pair will suffice, says Jane. 'Cut them in three, get rid of the middle bit and only apply the end sections. Snip off the kick at the outer corners too – you want heavy-lidded not doe eyed,' she explains. To that end, push your lashes down as you apply them, so they sit flat rather than flicked up. Apparently, the Marc Jacobs girl cares not a jot for perky.
Less of your lip
Next to nothing on the lips, says Jane. 'We knocked out the natural colour with concealer, paying particular attention to the corners of the mouth which can have a red tint and would have ruined the overall effect. Then we applied just enough colour over the top to stop the girls from looking flat. Nothing overly shiny – or at least, nothing that didn't look like natural moisture. Not dry, just not glossy'. In our experience, while the concealer trick is great in the hands of a pro it's pretty hard to pull off in real life so we'll stick with a muted shade of lipstick. The Nars team used Pure Matte Lipstick in Madère, or try Shu Uemura Rouge Unlimited Crème Matte in 940 or 954, with a scant finger of balm or clear gloss pressed over the top.
Featured Products